For the term of the Annual Support Agreement, Thunder Eagle, Inc. (we) will provide the following services to the client (you):
We will make our best effort to provide timely telephone consultation and requested support for Thunder Eagle hardware and software, during normal business hours, to help you maintain and troubleshoot your Thunder Eagle system.

We will provide you the latest firmware and software upgrades. You will need to purchase (one time only) the field firmware programmer hardware ($125) in order to install any firmware upgrades.

We will provide telephone support to your operating and support divisions -- such as facilities, computer desktop support, computer network or IT support, computer security, radio, electricians/telephone/wiring -- to assist you in resolving operational issues with your Thunder Eagle System.

If you have implemented the AE400 email system, you may add our email address, alert@wxeagle.com, to your system and we will monitor weekly tests and other alerts. We will inform you if a test is missed or any other issue appears. Often we can remotely spot and resolve issues in short order.

We will send you daylight savings time reset reminders and instructions.

We will work with you to resolve minor hardware issues, as opposed to a major issue such as a lightning strike.

We will consult with you about your system's operation and your future plans.

We will keep you informed of, and work with you to develop, the next generation of improvements to hardware and software.
We will work to resolve issues with software integrated with the Thunder Eagle system including Air Messenger email software and Fire Daemon Windows service software.
You and we agree that telephone support may not be instantly available and that every issue may not be fully resolved, although best efforts will be made in every instance.








WE110 Receiver -
AE120 SAME-EAS Decoder


WE105 Receiver -
AE400 SAME-EAS Decoder
Translates Alerts to Text


MRI-100 MultiRadio Interface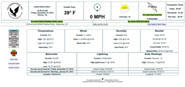 FipsServer Custom Weather Website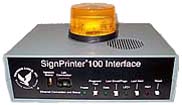 SP100 SignPrinter Interface


One Line LED Signboard